Tropical Resort Kata beach
Tropical Garden Resort
May 8, 2017 – 01:13 pm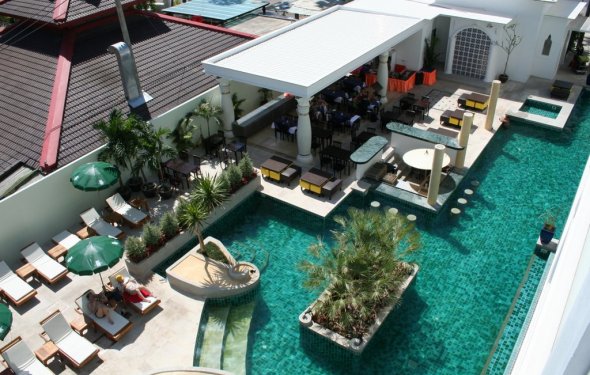 I have stayed at many hotels/motels/resorts over the years, and this one would struggle to make a 2 star, let alone being classified as a 4 star.
Like Buster and Bailey's review, my experience with Tropical Garden Resort was the worst I have ever experienced.
The staff, just did not want to know you, they used their lack of the English language as a block to deny your requests, in particular if you left your key in the holder in the room.
The hostess at the breakfast, was a cold as ice with her demeanour, when a mistake was made by our Travel Agent, (another post on this one) she literally would not let my wife or myself go back to the room to get the details so that we could sort it out.
She was imposing, intimidating and inflexible, just for a lousy $20 (AUD). By the way, the food was horrible, so we ended up going down the road for breakfast at the Black Canyon Cafe where the breakfast tasted good, service was good, and only cost us on average $10 (AUD).
The maintenance of the property is in a bad state of affair, broken, jagged concrete near the swimming pole, lack of painting and general maintenance. The shower leaked like a sieve.
The swimming pool has signs around it, the web page and other literature state that the pool is open until 7:00 p.m., this was not the case, staff shut the bar, locked the towels etc at 5:00 p.m. and buggered off.
Waited in the bar in the lobby for over 30 mins to get a drink, requested at the front counter twice before someone attended. Then I had wait another 30 mins to get another drink. Obviously this place in ran on a shoe string and grossly understaffed, and the staff that had to work there are unhappy and un-accomadating.
So un-accomadating that we avoided the lobby at all costs.
Security was a shambles, I am not an expert but, the key in the holder advises their network of your presence, when you open your door etc... so when you enter, the phone rings, you lift the receiver up, hang up, this then lets security know that you are safely in your unit, which is good.
But you can walk all over this place (it is a large compound) and go to places where as a visitor you should not go, and you never get challenged.
Voids, cabinets and control rooms have broken doors or are unlocked etc making it easier to cause havoc if you were that way inclined. I only found one security camera, and I doubt on whether that thing works.
A claim by the webpage with regards to the Superior Room (which we had) had access to WiFi, what they don't tell you, is that you have to pay for it. It is based on time use, and constantly drops out, which means your time use, is used rapidly for low results, plus if you don't log off, it will run out if left logged in.
To top it all off, they had a guy on their staff who claims he is an Aussie, but his accent will tell you otherwise, even the resort staff had doubts about his origin. I am not sure on what his role is.
This all may sound negative, which it is, but I would like to compliment one staff member who is exceptional and her name is Sammy, she is not of Thai origin, which made her more friendlier than any others.
I also would like to note that upon arrival, like others, my room was not ready even though we booked way back in January. The resort appeared to be only 5% - 10 % booked while we were there, so we had to wait 2 hours before we could go to our room.
Source: www.tripadvisor.com
Related Articles