Tropical Garden Resort Kata beach
Chanalai Garden Resort, Kata Beach
July 23, 2023 – 10:41 am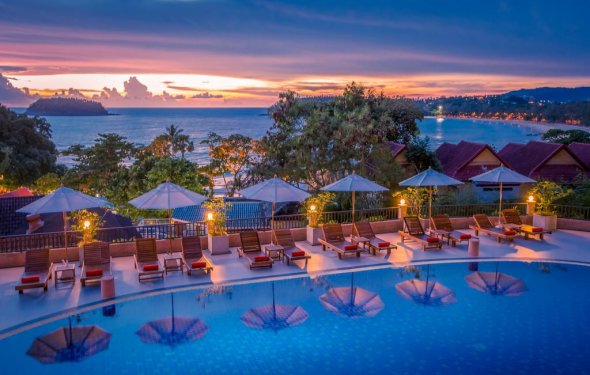 The Tropical Garden Resort, situated in the small beach town of Kata, offers relaxation in the sun before heading back to your room to take full advantage of all the amenities. Featuring chic lighting and exclusive furnishings, unwinding from a busy day in Phuket will never be the same. The rooms are hidden within tropical foliage, giving you supreme privacy. Thanks to a large balcony, viewing the beautiful sights of nature has never been more enjoyable.
Much like the Kata Country House Resort, each room is climate-controlled, which is particularly useful during the hot summer months. An extra roll-away bed gives ample space to sleep. Tea and coffee-making facilities help you start your day off right, with extra energy for exploring the resort. Enjoy a fully stocked minibar and refrigerator, which is beneficial for late night snacks. WiFi is also available, making it easy to connect to the Internet for business or pleasure.
Beachfront Resort
What makes the Tropical Garden Hotel truly special is its isolated setting near the Kata Beach. Appreciate the sand beneath your feet, as the beachfront views leave a long-lasting impression. Along with these romantic views, you have access to shopping areas nearby. Promthep Cape is just 15 minutes away. It is one of the best places to view the sunset.
Affordable Aquatic Adventures and Dining
Keeping yourself entertained isn't hard, as there are many affordable aquatic adventures awaiting you. For a closer look at sea creatures and plant life, you can head to the Phuket Scuba Club. Classes are available for beginners, which help you scuba dive with confidence even if it's your first time. All of the equipment is provided for, saving you a lot of money. Scuba trips also offer meals, transportation, and refreshments.
When it comes to eating, you are in luck. The Red Duck restaurant is a local favorite, and it provides a relaxing environment to help you unwind while enjoying a unique meal. The prices are fair, and the staff is extremely accommodating. At the Red Duck, unique Thai food is readily available and prepared by today's top emerging chefs in Phuket.
The Bottom Line
Treat yourself to an amazing time in Phuket when you make a reservation to stay at the Tropical Garden Hotel. Featuring beautiful ocean views with vibrant plant life, Tropical Garden Hotel is the perfect oasis for your next vacation.
Related Articles