Phuket main beach
Phuket Beaches
November 16, 2018 – 01:44 pm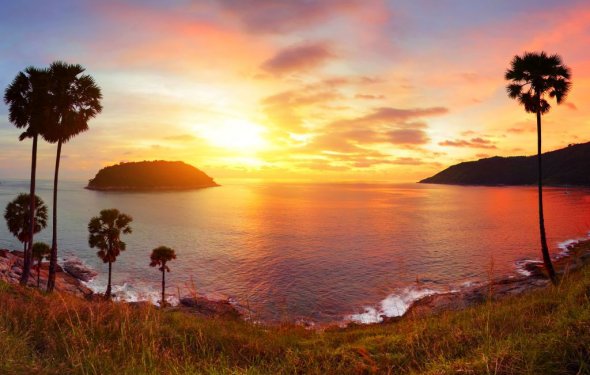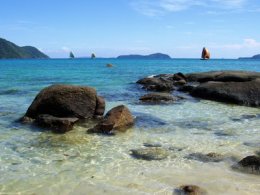 Oddly this blog doesn't talk that often about Phuket's beaches, which is rather surprising since most visitors come to Phuket for a "beach holiday", and Phuket does have rather a lot of very nice stretches of sand. But I try to keep a personal touch to the blog, and to be honest I'm not much of a beach person. I don't go and sit on the beach. We go (as a family) to the beach now and then to let the kids play, or we might eat by the sea, but if we want a swim we prefer to take the kids to a pool. If we do decide to sit on a beach for a while, we'll normally avoid the main Phuket tourist beaches, preferring to find a quiet spot.
Pretty much every beach in Phuket is on the west coast, stretching some 45km from Mai Khao beach in the north to Rawai in the South. The 3 main tourist beaches of Patong, Karon and Kata are in the southern half of the island. Away from these beaches there are some very secluded spots and many beaches that are largely undeveloped. Some have just a few hotels or resorts, most have long stretches of uncrowded sand. Some are a bit rocky at low tide.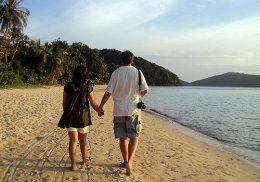 (above) This photo of me and my wife actually walking on the beach was taken at "Khao Kad Beach" at Cape Panwa on the east side of Chalong Bay - can be rocky at low tide, but one of our favourite little restaurants is right here. The fact that it's rocky at low tide keeps it quiet! As time goes by, I'll try to post more information about many of the beaches. This is just a very quick introduction, and may not mention every possible Phuket beach. Of course before heading to Phuket you'll need to book a hotel ...
Phuket Hotel Information on Jamie's Phuket
• Recommended Phuket Hotels
• Top 10 Phuket Hotels
• Best Family Hotels
• Best Luxury Hotels
• Best Romantic Hotels
Phuket Beaches on Jamie's Phuket
Karon Beach
Karon is developed, but nothing like Patong. Karon has a quieter feel to it. The beach is long, the sand is fine, and there are hotel options to suit everyone - 5 star to fan rooms in guesthouses... The beach area has been revamped over the last fewvyears, and every time I hit Karon after coming from Patong I think "wow, this is nice". Karon is clean and well looked after, though can be accused of being "boring" since much of the beach road is taken up by resorts such as the Hilton Arcadia, Thavorn Palm Beach, South Sea Resort, Andaman Seaview and many more.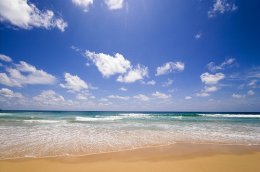 There are 2 main "centres" at either end of the beach. The south end is quieter and is only a few minutes from Kata, so is a good location. I am manager of Sunrise Divers in Karon.
• My Suggested Karon Beach Hotels
• Karon Beach Hotels - Full List
• More info about Karon Beach
Nai Yang Beach
Just south of Phuket Airport, Nai Yang beach has a few nice resorts and part of the beach is a National Park. Some beachfront restaurants close to the Nai Yang Beach Resort, but otherwise very quiet. Some lower budget places away from the beach too.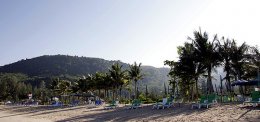 • More about Nai Yang Beach
• Hotels near Nai Yang Beach
Kamala Beach
The first beach North of Patong (unless you count Kalim and Nakalay), Kamala is not as developed as the other 3 main beaches and being a largely Muslim community has a different feel. When I came to Phuket in 1999 I don't think there were any bars in Kamala. It was hard enough to buy a beer in a local shop! There are a few bars now, but even now parts of Kamala beach are more like a local fishing community. There are a few bigger hotels and a smattering of small resorts and guesthouses. The North end of the beach is very quiet. Kamala was the worst hit of Phuket's beaches on December 26th 2004 and it took a while to get back to normal. Kamala is also home to Phuket Fantasea, one of Phuket's biggest tourist attractions.
• Kamala Beach - More Information and Photos
• Kamala Beach Hotels
• Kamala Temple
Laem Ka Beach
One of Phuket's quiet secrets and not well signposted ... located just before Rawai on the road from Chalong. No hotels, just one little restaurant (and maybe a few snack stalls), just some sand, rocks and a great view. I know it's not as secret as it used to be though. but still worth a visit.
Ao Sane Beach
Barely known, Ao Sane is home to some bungalows and the Baan Krating Jungle Resort. To get there you first come to Naiharn beach, and must drive through the Nai Harn Resort. A quiet spot with a nice view across Naiharn bay. There is one small restaurant serving Thai food. I find it a nice place for a cold afternoon beer. (note - I have not been for years, needs an update!)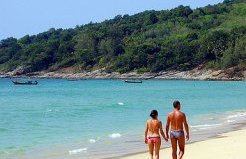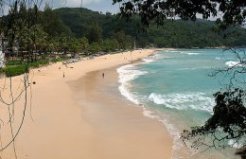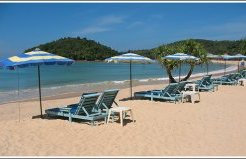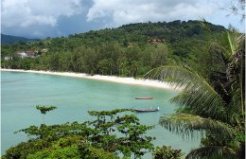 Source: www.jamiesphuketblog.com
Related Articles