Phuket Kata beach
Kata Beach travel guide
December 30, 2021 – 09:53 pm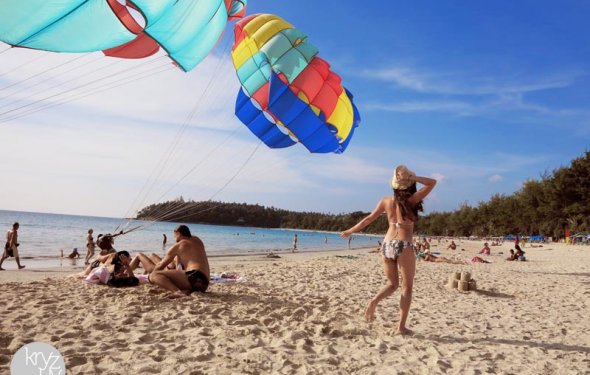 Phuket's famous Kata Beach is actually made up of two main beaches, the Club Med dominated Kata Yai Beach and the Kata Thani dominated Kata Noi Beach.
In both cases the large beachfront hotels dominate the landscape, moreso in the Kata Noi case as the Kata Thani is on the beach side of the road and does a good job of making beach access as difficult as possible — at least Club Med has a road between it and the sand. In both cases though, the beaches themselves are not restricted and there's plenty enough sand for everyone — once you get onto it!
Of the two beaches, Kata Yai (big Kata) is the better beach with soft, super fine sand meeting turquoise water which swings from a millpond in dry season to a small surf beach in the wet. More protected than Karon Beach to the north, Kata still gets currents and novice swimmers should be careful — if the red "Do not swim" flags are out, do not swim.
For snorkellers on Kata, the best bet is the northern end of the beach, where the rocks host coral and ample sea life. If you're on Kata Noi, hire a longtail for the trip south to Nui beach - a sliver of sand that has good snorkelling off both the north and south headland. If you want to do Nui but want to find it yourself, just continue past Karon Viewpoint and head towards Laem Promthep to get to the entrance of Nui.
The dirt road leading 2km down to the beach has seen some improvements in the last few years but is still by no means safe. Pot holes and 60 degree drops in the road are not for the faint-hearted nor inexperienced driver. You can safely park your bike halfway down the road and walk the rest of the way — be sure to bring water with you as the hike back is strenuous. It costs 250B to enter Nui beach but it's well worth it as you get a beach chair, umbrella, towel and soft drink. The beach is one of the best in Phuket.
Offshore sits Ko Pu, an uninhabited islet that plays no useful role other than to make your sunset photos that little bit more beautiful.
Both beaches have plentiful supply of deckchairs and umbrellas and while Kata Noi is largely shadeless, Kata Yai does have some shade towards its centre but it is often busy with vendors.
Kata Centre sits off the northern end of Kata Yai between Kata and Karon and has traditionally (after Phuket Town) been the best area for budget accommodation, with a bunch of cheap hotels, restaurants and bars running back along Taina Road. While nothing compared to Patong (or more recently Karon), this part of Kata is seeping into sleazydom with a new bar beer complex on Kata Road complementing the rundown and aging joints at the eastern end of Taina Road. We understand that this kind of scene is the appeal for some, but having legions of Thai women shrill "Hey Misterrrrrr", all hours of the day, isn't a plus. If this is going to bother you, consider staying at the southern end of Kata.
Southern Kata has much of the midrange accommodation and has seen considerable development in recent years — if you're a mid-range traveller, or especially if you're on a package, chances are you'll be at one of the dozen or so properties down this way. This end of Kata also has a growing number of flashpacker places just before the road climbs uphill to the south.
The last area is Kata Noi where the options are really just the Kata Thani and a couple of midrange hotels.
Source: www.travelfish.org
Related Articles