Phuket for Kids
Holiday Inn Resort Phuket in Patong
February 28, 2022 – 10:07 pm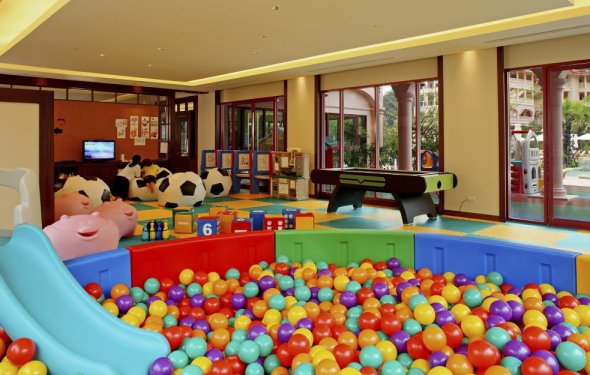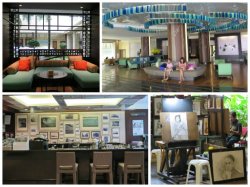 In recent years, our family holidays have been less about visiting new landmarks, and more about simply spending time with one another. So what's important is an environment that delights the kids and also offers little pockets of time for the adults to enjoy some me-time.
Enter the beach holiday in a family-friendly, value-for-money resort, easily found in a 2 hour flight radius from Singapore. Over the years, we have particularly become fans of Holiday Inn hotels, because there are so many of them nearby that provide just that, and more. One of their famous taglines is that "kids eat and stay free", which just goes to show how much of a family resort they are.
For the June holidays this year, we went to Thailand's Holiday Inn Resort Phuket, along Patong Beach. As you will see from the photos, it is for good reason that they are ranked on TripAdvisor as #4 out of more than 280 hotels in the area.
When we arrived, we were greeted by modern decor and an overall vibe that was so welcoming.
Rooms
We loved our room and the beautiful lilies and lush landscaping all around the hotel.
The pièce de résistance was, however, the kids' room!
The kids had their own toiletries, in their own bathroom – such a nice touch in addition to the beautifully themed and decorated room. Plus, I have never seen a welcome basket of chocolate quite like the one above – I was impressed with the Lindt bars, and all the rest of the kiddie favourites had my girls positively screaming when they saw it. Talk about a sugar high before the event.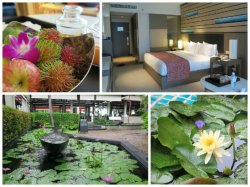 Look at the kids' unbridled delight! For six year old K and four year old B, getting a room like that alone, completely bumps this up the charts as an extraordinarily awesome holiday.
At around S0++ per night, the family suite is such a steal as compared to the sky high prices of hotel rooms for Singapore staycations these days. Especially when you're actually getting two rooms, with two bathrooms to boot, all in a spacious 66 square metres. Worth it for a treat to the kids, I'll say.
Pools
The sprawling hotel has a main wing with three pools (two children's pools and one large family pool), and a Busakorn wing with a small children's pool, and the huge pool with a bar that you can see below.
It was a bit of a shame that it rained half the time we were there, though on the bright side, that meant really cooling weather.
Being rained out also meant that we, like all good Singaporeans, simply spent much more time eating. And what a glorious spread there was. At breakfast, lunch and dinner. Check this out!
Food
Breakfast buffet at the capacious, airy, aptly named Sea Breeze cafe, boasts amazing variety. Another plus to the restaurant covering so much area is that diners can work off some of those calories as you walk around choosing your food. Haha!
Lunch was at The Terrazzo, the Italian restaurant within the hotel, right across the street from the beach. Just 20 paces and you hit sand.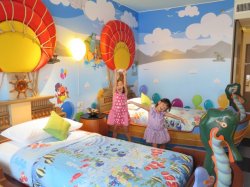 We had the Thai Hawker Food Buffet at Sea Breeze for dinner one night – the three collages below aren't even an exhaustive representation of all that was offered. I love Thai food, and this was a great way to pretend we were having actual street food, albeit in the comfort of cushioned chairs and cloth napkins. There was also fantastic fish maw soup and fresh steamed fish in soy sauce, served in little bowls. Delectable.
On another evening, we had a seafood dinner at Charm Thai, which serves authentic Thai cuisine and very fresh seafood.
We were invited to breakfast at Charm Thai too, which usually only serves guests from the Buksakorn Wing and Villas. We didn't get a glimpse of those rooms since the entire hotel's occupancy rate was more than 90% when we visited, which is testament to how popular the Holiday Inn is, even in this somewhat low tourist season.
Breakfast at Charm Thai has a more dim and cosy feel, with a slightly different variety of food, though the variety remained extensive, ranging from Miso soup and Thai fried noodles, to muesli and guava smoothies. The one thing it had that Sea Breeze didn't, was a pancake machine! Spot it in the collage below – it completely fascinated K & B, who took turns to 'make pancakes' at the touch of a button.
Since the room was simply the awesomest the kids had ever stayed in (and perhaps will ever get to stay in ), we decided to wait out most of the rain being couch potatoes. For the first time, the hubs and I didn't have to watch cartoons, or negotiate with the kids for screen time, because there were two TVs, so everyone was very happy. The hotel had considerately provided a whole wallet of 10 children's DVDs in the kids' room, and did I mention that there was an X-Box with various games too?
Every Holiday Inn resort I've been to so far, has a free kids' club with activities and toys galore. My favourite are the games and crafts that they offer, and all those pictured below come at no extra cost.
When the rain eased up and the sun peeked out, the girls had a great time at the kiddy pools, which were cleverly located on either side of the kids' club. There are pool games scheduled, and the staff manning the towel booth even made elaborate balloon toys for each child in the pool – there was no need to queue and he'd just surprise each of them with one when they finished swimming!
Jungceylon shopping centre
Since the hotel is located in the bustling tourist area of Patong, we took the chance to do some shopping. It is really quite a different world out there as we walked to Jungceylon, and I must say that much as we enjoyed our little excursion, we felt much more comfortable within the confines of the hotel. Symptoms of a sheltered Singaporean.
Patong Beach
In better weather, the beach is usually crowded and we saw colour parasailing parachutes soar in the sky one day. However, Patong Beach during a drizzle is really somewhat of a dismal and melancholic sight, echoed by this Thai flag we saw, drooping in the rain.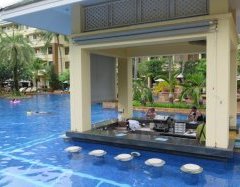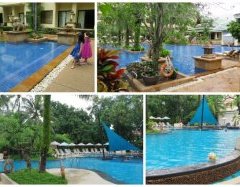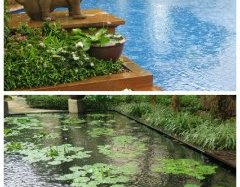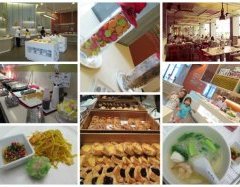 Source: www.lilbluebottle.com
Related Articles