Kata beach Nightlife
Kata Beach Nightlife
September 21, 2021 – 09:30 pm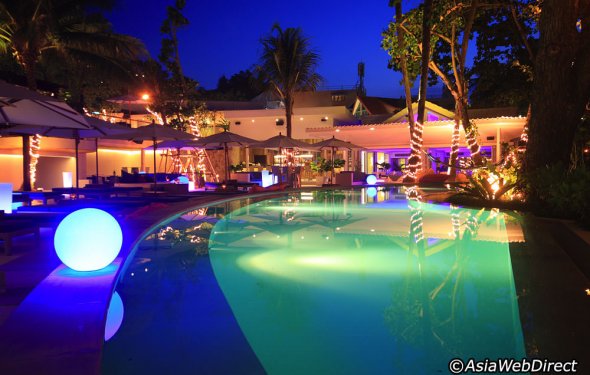 Kata Beach is considerably less hectic and crowded than Patong Beach and thankfully doesn't immediately assault your senses with thousands of bar girls, go-go bars, ladyboys and street hawkers. Kata provides a welcome respite to escape those distractions and remains a firm favourite with those looking to enjoy a somewhat quieter scene in the evenings, especially families, but is still conveniently close to many great restaurants and popular bars, besides the very attractive beach and a variety of day time activities.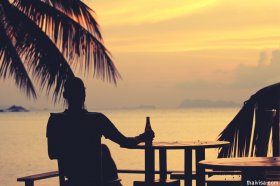 Kata is the kind of place where you can relax and not get hassled by the over persistent touts trying to sell you a wooden motorbike or a silly hat, and the whole place has very a calm atmosphere, remaining popular with couples and singles alike. There's more to do here than at some of the other west coast resorts and it's a decent compromise between nightlife and tranquility. Kata has evolved from a tiny place thirty years ago where the huts on the beach used generators to blare out Bob Marley tunes, to a place where they still blare out Bob Marley, but now you can surf the Internet on the beach at the same time.
Kata is within a short distance and about a ten minute drive from Patong Beach, and can be easily reached from just about anywhere in Phuket. The town seems to merge with neighbouring Karon at the northern end, and there are an eclectic mix of bars scattered around town that should suit nearly all tastes, ranging from the sometimes cacophonous girly bars (though not in-your-face and nowhere near the same league as Patong) to pleasant beachside joints where you can just hang out and listen to music, as well as some lovely restaurants and bars overlooking Phuket's west coast: an ideal place to go for a few leisurely sundowners and watch the sun set whilst enjoying a good meal.
The nightlife in Kata could be considered quite well rounded and appealing, and it doesn't have any thumping discos or nightclubs that stay open all night (though there are a few rock and metal pubs that can be noisy). The official closing time in Kata is 1am, so by then almost everything has closed already or is starting to wind down except for a few music pubs. The area alongside the beach is dominated by the huge Club Med, so most of the bar action takes place at both ends of the beach and on the back road behind, which is where you'll find many of the girly bars trying to attract the attention of male passers by.
To summarise, Kata Beach is a fantastic place to stay on holiday or enjoy an evening out, and won't leave you feeling exhausted or aghast at the nightlife in the same way that Patong Beach can. As a result, it tends to attract a slightly less raucous crowd but that's part of its enduring appeal. Kata offers visitors loads of interesting activities both in the daytime and evenings, and people that visit often wish they'd stayed longer and avoided the tourist trap that Patong Beach can be.
Bars in Kata Beach
Here is some information on the various bars and nightlife available in Kata Beach. Of course, for many people it's not just about the bars and drinking, so make sure you check out our related articles on live music and restaurants in Phuket.
It's worth remembering that many bars change hands regularly, especially the small girly bars which come and go from one season to the next, so your favourite bar from last time might not be there any more. There are dozens of girly bars around Kata, but they are all fairly identical and have the same basic ingredients of a pool table and TV, girls in mini skirts sat around the bar, and more often than not quite cheap drinks.
Here are a selection of bars that we enjoyed, but there are plenty more around Kata.
After Beach Bar
On the road out from Kata heading towards Rawai and Cape Promthep, there are a couple of popular and enticing bars perched on the hill. To get there follow the route to the viewpoint by turning left out of town along Kata Sai Yuan Road. You'll need transport to get to this bar but the stunning views and ambience are definitely worth it. There are several bars at this spot but the original and favourite is still probably After Beach, which has gradually been extended further out from the hill. The music is typically reggae and they serve very good seafood. Not a bad place to hang out indeed, but make sure you get there before sunset to enjoy the splendid views. The adjacent bar is the Small View Point and there's a little bit of friendly rivalry between the two venues so you can choose between Bob Marley or Jack Johnson!
Open: 09.00-23.00, daily
Where: on the hill between Kata and Cape Promthep
Tel: +66 (0) 81 894 3750
Bluefin Tavern
Bluefin is really more of a restaurant than a bar, but nevertheless is a great place to hangout in the evenings and serves up some excellent, authentic and inexpensive Mexican food, burgers and Thai green curries. The Bluefin is one of the longest standing venues in Kata with a good reputation, and is a firm favourite among locals, tourists and the sizeable expat population. They also do a very tasty margarita, which is a perfect way to relax after a hard day on the beach.
Where: Thai Na Road, Kata Centre
Tel: +66 (0) 76 330 856
Duke's Big Board Bar
This small but popular sports bar opened in 2009 and has built up quite an avid local following and reputation for being the best place to watch sports. They show just about all the major sports on 5 large flat screen TVs, and will happily put on whatever the customers want to watch. If there is a sport being played somewhere in the world then, you can guarantee it will be shown here. The prices are more than acceptable and happy hour runs daily between 3pm and 7pm. As well as being a friendly watering hole, food is available from the nearby restaurants. The American hosts, Mark and Karen, make customers feel welcome and you are guaranteed to bump into people from all corners of the world. Try the popcorn which is freshly made and simply delicious!
Open: 12.00-01.00, daily
Source: phuket.thaivisa.com
Related Articles