Attractions in Phuket thailand
Attractions in Phuket
July 7, 2017 – 08:31 am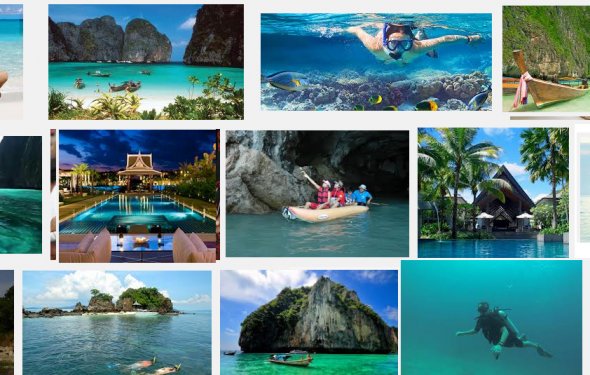 advertisement
If Phuket is your only destination in Thailand, you'll certainly want to get to some of the Muslim fishing villages, small rural temples, and Phuket Town. Outdoor activities top the list of things to do, and there's something for everyone.
More or less in the center of the island, the Heroines' Monument is a good place to get a taste of local history. It was erected in honor of two women who rallied the troops and saved the town from an attack by the Burmese in 1785. Locals frequently arrive to make offerings and prostrate themselves before the monument, making it more than a simple statue.
Thalang National Museum, just off Highway 402 beside the Heroines' Monument (tel. ; daily 9am-4pm; 100B), exhibits Phuket's indigenous cultures, the history of Thai settlements on Phuket, and crafts from the southern Thai regions as well as a 9th-century statue of the Hindu deity Vishnu - evidence of early Indian merchants visiting the burgeoning kingdom.
There are a few Buddhist temples on the island that are notable: The most unique is Wat Phra Thong (daily 6am-6pm), along Highway 402, in Thalang, just south of the airport. Years ago, a boy fell ill and dropped dead after tying his buffalo to a post sticking out of the ground. It was later discovered that the post was actually the top of a huge Buddha image that was buried under the earth. Numerous attempts to dig out the post failed - during one attempt in 1785, workers were chased off by hornets. Everyone took all this failure to mean that the Buddha image wanted to just stay put, so they covered the "post" with a plaster image of The Buddha's head and shoulders and built a temple around it.
The most famous temple among Thai visitors here is Wat Chalong (daily 6am-6pm). Chalong was the first resort on Phuket, back when the Thais first started coming to the island for vacations. Nowadays, the discovery of better beaches on the west side of the island has driven most tourists away from this area, but the temple still remains the center of Buddhist worship. The temple is on the Chaofa West Road, about 8km (5 miles) south of Phuket Town.
Sea Gypsies, or Chao Ley, are considered the indigenous people of Phuket. This minority group used to shift around the region, living off subsistence fishing, but commercial fishing interests and shoreline encroachment increasingly threaten their livelihoods. Related to the Malaysian Orang Laut people and the southern Thai Sakai tribes, Phuket and Phang Nga's Sea Gypsies form a few small settlements on Phuket island: one on Ko Siray (aka Ko Sire), east of Phuket Town, and another at Rawai Beach, just south of Chalong Bay. The villages are simple seashore shacks, with vendors selling souvenir shells. It's quite educational to visit these people and their disappearing culture; sadly, however, thanks to too many tourist handouts, be prepared also for pestering, dollar-hungry children.
Back to Nature
Sirinath National Marine Park, 90 sq. km (35 sq. miles) of protected land and sea (mostly the latter) in the northwest corner of the island, offers a peaceful retreat from the rest of the island's tourism madness. There are two fantastic reasons to make the journey out to the park. The first is for Phuket's largest coral reef in shallow water, only 1, 000m (3280 ft.) from the shore. The second is for the rare chance of spotting the endangered Olive Ridley turtles that once came to nest every year between November and February. The Park headquarters (tel. ; is a very short hop from Phuket Airport off Highway 402.
At bars, restaurants, and guesthouses around Thailand, but particularly on Phuket, caged or drugged lar gibbons provide a dubious form of entertainment to tourists, many of whom are completely ignorant of the abuse these endangered creatures endure. These fragile primates are poached as pets when young, and caged until they are mature - and become aggressive. At this point they are sold to a bar, dressed in children's clothes, and fed amphetamines to stay awake at night (when they are normally asleep). Imprisoned by their owners by day, by night, they are fed a diet of cigarettes and whisky - all in the name of "entertaining" the tourists. Some visitors unwittingly exacerbate the problem by paying to have their photo taken with a captive gibbon; some simple advice is-don't do it.
Many gibbons develop psychological problems and become extremely menacing, which is when the owners want to get rid of them. The Gibbon Rehabilitation Project, off Highway 4027, at the Bang Pae waterfall, in the northeastern corner of the island (tel. ; cares for mistreated gibbons, and volunteers are always welcome. Guides offer tours of the facility, open daily from 10am to 4pm. Admission is free, but donations are expected (ask for a receipt).
The Phuket Aquarium (tel. ; at the Phuket Marine Biological Center (51 Moo 8, Sakdidet Rd.), seeks to educate the public about local marine life and nature preservation. There's also a science and nature trail along the adjoining coast. Most of the signs throughout are in Thai but it is still worth a trip. It's open daily 8:30am to 4:30pm, and admission is 100B for adults, 50B for children.
Phuket Butterfly Garden & Insect World, Soi Phaneung, Yaowarat Road, Tambon Rasada, Phuket Town (tel. ; breeds hundreds of gorgeous butterflies in a large enclosed garden. There are plenty of chances for photos. It's open daily from 9am to 5pm; adult admission is 300B, and children from 4 to 10 pay 150B.
You'd never think seashells were fascinating until you visit the Phuket Shell Museum (12/2 Moo 2, Viset Rd., Rawai Beach, just south of Chalong Bay; tel. ; admission 200B adults, 100B for kids). Billed as "the largest shell museum in the world, " it's actually not the quantity that amazes, but the quality; don't miss the world's biggest golden pearl. As always, the gift shop sells a range of tempting high-quality shell products; however, these days, any eco-savvy traveler will be well aware that the retail shell industry is depriving a sea creature of a home, and that such countries as Australia actively prohibit their import. The museum is open daily from 8am to 6pm.
Note: This information was accurate when it was published, but can change without notice. Please be sure to confirm all rates and details directly with the companies in question before planning your trip.
Related Articles