Things to see in Phuket thailand
VIDEO: Things to See and Do in Phuket, Thailand
January 19, 2022 – 09:54 pm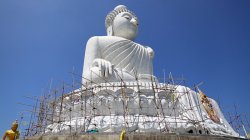 By: David on
Phuket is Thailand's largest island and it's known for its beaches, incredible views and it's nightlife. Today I am going to be showing you Phuket's top attractions.
There are over 25 Buddhist temples on the island and Wat Chalong is the most famous. It's a three story temple and it's well known because it houses a bone relic of the Buddha.
Here we are at Phuket's big Buddha. This Buddha measures 45 meters in height and looks over southern Phuket. From most of southern Phuket you can see the Buddha and as you can see the complex has not been completed yet. What ever you buy at the complex goes towards funding the completion of the Buddha.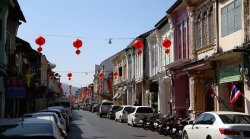 Thalang Road the most famous street in Phuket town. They recently applied for UNESCO World Heritage recognition. The street is made up of seno Portugues mansions and shop houses which have been rebuilt, re-painted and remodeled. On the ground level their cafes, restaurants and boutiques.
Patong Beach is the most touristic beach on the island. The beach has cafes, watersport activities and restaurants. It is a beautiful beach so you have to see it when in Phuket!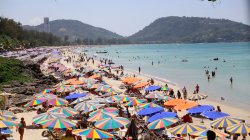 Another beautiful beach is Surin Beach, which is only a 15 minute drive north of Patong Beach. This is the perfect place to get a quite lunch, take a dip or go snorkeling.
Lastly we have Bang Tao Beach, this is a more family oriented beach, its less touristy and more relaxing. Phuket has many more beaches not just these three. The western coast is easier for swimming and the eastern coast tends to be more muddy.
We head out to Phang Nga Bay with Captain Mark's Alternative tours. We signed on for a full day speed boat tour. First stop is Ko Lao Landing island to visit paradise beach. Next up we visit a 1000 year old bodhi tree.
We then head to Koh Panyi Village, a 1000 person muslim village. The families have been there for over two hundred years. Lastly we visit Panak Island to visit a dark cave, secret lagoons and a haunted pirates cave.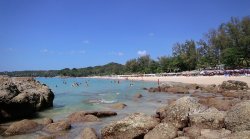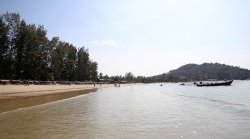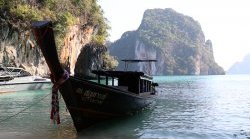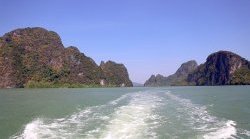 Source: davidsbeenhere.com
Related Articles