things todo in Phuket
How to Plan a Perfect 4 Day Phuket Holiday
August 12, 2017 – 12:10 pm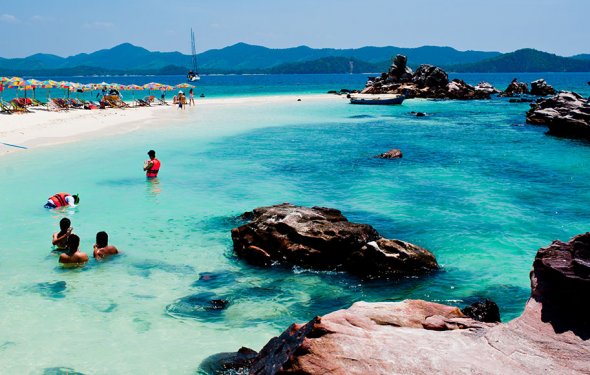 I went to Phuket recently with my husband and ever since we came back, I have been flooded with questions about our trip. Which are the best beaches in Phuket? How is the food in Phuket? Is it a good idea to plan your honeymoon in Phuket? And the most common question of all – how did you plan your trip to Phuket?
So I thought why not spread some good travel karma and share my Phuket itinerary while it's still fresh in my mind. If you're planning a DIY Phuket holiday, here's a recap of my trip including attractions, day trips and restaurants with reviews, suggestions and most importantly, prices!!
Phuket is the perfect destination for a relaxing holiday
A Quick Background: We went in February 2014 from Delhi to Bangkok and then Phuket. In terms of age and travel style, we both are under 30 and like a mix of luxury and local flavour. This guide covers the four days we spent in Phuket, with the highlight being our day trips to Phang Nga Bay and Phi Phi Islands.
Day 1: Delhi to Bangkok to Phuket
From the Airport: We took the IndiGo flight from IGI Airport, Delhi at 5.50 am (maybe not such a good idea because you have to check in at 1.30 am and stay awake the whole night!); and landed at the Suvarnabhumi Airport in Bangkok at 11.35 am (the journey takes 4 hours and 15 minutes).
For our next flight to Phuket, we had booked Nok Air (a local Thai airline) at 3.30 pm from the domestic airport, which is roughly an hour's drive away. One of my friends who used to live in Thailand had told me that there is no Skytrain connecting the two airports, and it would be best to take a cab and ask the driver to take the highway to avoid Bangkok's super heavy traffic, even though we would have to pay extra road tax (135 Baht).
It's a good idea to grab some lunch at the airport because by the time you reach the hotel it's late in the evening.In terms of gastronomic delights, Suvarnabhumi airport is covered. The airport is equipped with everything from a Starbucks to Fine dining options, making sure that your time is well spent. There are mini-vans right outside the Phuket airport, which are cheaper than a cab, although they take longer because they stop on the way to drop other passengers.
It doesn't get more colourful than this
Our Hotel: We were staying in Best Western Hotel at Karon Beach instead of Patong (which is more popular with Indian tourists because of its happening nightlife at Bangla Road). Karon is relatively less touristy but still very lively with restaurants and bars with an upbeat vibe. The hotel was at Patak Road, just about 5-10 minutes walking distance from the beach, where all the action is! Other reasons why I loved this hotel were that it had three swimming pools and large rooms with sea facing balconies.
Make sure you don't pick a hotel which is too far from the beach and markets or you would have to use the tuk-tuk every time you travel which would add up to the cost (400 Baht for a trip from Karon to Patong). But if you are planning to rent a scooty (250 Baht a day plus petrol cost), then of course, you can stay wherever you like.
The bustling streets of Phuket have a charm of their own
Restaurants and Pubs in Karon: We spent our first evening in Phuket exploring the different eateries and bars in Karon. The restaurants we really liked included Two Chefs (our favourite!), Karon Café, PaPa Restaurant and Irish Pub. In general, the food was good everywhere – my only tip would be to be cautious when ordering for spicy food because in a Thai kitchen spicy means a really generous portion of red chillies in your dish. I suggest ask for the spicy sauce separately. Also, if you are a vegetarian you might want to pick rice instead of noodles because the latter invariably smell of fish oil.
We also liked the little open bars on the road. Also, don't miss the Nutella pancakes off the street which are absolutely to die for.
Say cheers to a relaxed vacation
Day 2: Phuket
Breakfast Buffet and Karon Beach: Fortunately, hotels in Thailand, unlike those in Europe, serve the breakfast buffet as late as 11.30 am. And the variety they offer in both vegetarian and non-vegetarian options is lavish. I especially gorged on fresh fruits like mangoes, melons and pineapples.
After a big and satisfying breakfast we went off to Karon beach, which has beautiful turquoise waters and clean sand. You can spend hours on the beach, get something to eat or drink, and get one of the beach chairs to lounge around. Try water sports like banana boat ride, jet skiing and parasailing. Just remember (and I cannot stress this enough!) that the sun in Phuket is very strong and you need to constantly reapply sunscreen (at least SPF 50) if you don't want your skin to burn.
Read a book, relax or just snooze at Phuket's beautiful beaches
Day Trips from Phuket: Most people suggest that when you go to Phuket you should make a day trip to either Phang Nga Bay (James Bond Island) or Phi Phi Islands. We couldn't choose which one we wanted to do more, we decided to do both!
Source: www.makemytrip.com
Related Articles