What to do in Patong thailand?
Patong Beach
September 22, 2017 – 10:59 am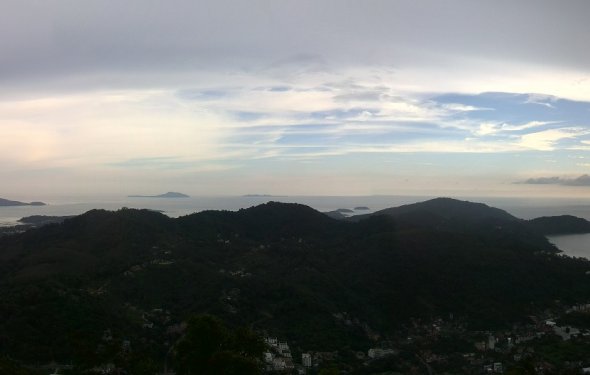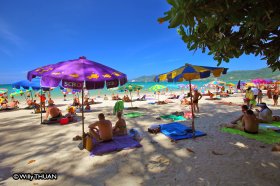 Patong Beach – What to Do in Patong
Patong Beach – What to Do in Patong
4.1 (83 votes)
Patong Beach is the heart of Phuket and what makes it so popular to some is often what other people hate most about it. Patong is big, bold, crowded, bright and loud, yet millions people flock there every year like flies on honey. If Bangkok is the Big Mango, then Patong is the Big Durian: you'll love Patong… or you'll hate it!
The original success and popularity of Patong beach rotates around two things: its amazing beach, and its worry-free wild nightlife. The rest? Don't blind yourself: shopping, dining, and foot massage are just the cream on the cake.
Click here to see our new
Just walk in Soi Bangla at night and you will understand; everyone is there: guys, couples and even families with kids. For most it's party zone, for others it's a curiosity to tick off the 'must-see' list and to talk about once back home. Just look at the crowd staring at some sexy and very feminine dancing on a street stage in very tiny outfit and you'll get the picture, literally.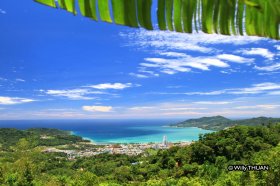 And don't forget to close your mouth.
The Beach of Patong
The beach is 3 or 4 kilometers long and often crowded in the middle part. Forget about parking your car anywhere around there, even a bike is problem. The northern part of the beach, not far from, is much nicer and less populated. Fewer people, easier parking, plenty of local food vendors to have fun and water gets really blue in this part (at least during high season).
The water at the southern end, near the bridge, is not always very clear, but under the bridge is a surprising old fashioned fishermen village worth a photo. Anywhere, you can rent an umbrella for 200 baht but beach chairs have disappeared for the moment. You can try some parasailing, or get yourself killed by renting a jet ski (we warned you).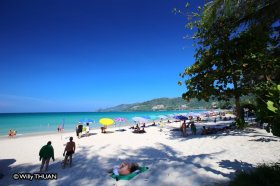 Patong beach nightlife essentially rotates around Soi Bangla, all the way to Rat-U-Thit Road (the second parallel road). Every evening this large street closes to the traffic is transforms into an incredibly busy walking street. On each side, an incredible amount of entertainment battles to grab your attention and senses. Whether it's with bright light, loud music or more literally sexy girls wanting you to have a sit at one of the many open beer bars or touts inviting you to have a look at the sexy shows (you should never follow them by the way)
Further is the Paradise Complex area known to be the very popular gay street, easy to spot as it's right at the feet of the Royal Paradise Hotel tower. It can be worth a visit, it's friendly and you can watch a small ladyboy cabaret show for the price of a drink. Read more
Shopping in Patong
I was going to say "There is something for everyone in Patong Beach" but I changed my mind: it's is clearly tourist oriented. Souvenirs shops, tailors, night markets specialized in fake brands, tailors, Thai massage-foot massage-naughty massage, tailors, suitcases shops, tailors, art galleries selling DVD copies in their secret rooms, tailors. Did I forget most visible and often invasive: tailors!
Since the opening of Jungceylon, shopping is a tad more sophisticated and but also a good way to escape the heat of midday by exploring this overgrown shopping mall. Plenty of restaurants and activities in there, even an indoor shooting range, with live bullet… how fun. If you want to know more, read Jungceylon Shopping Center.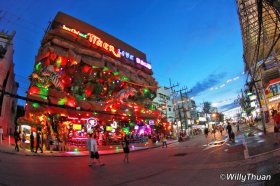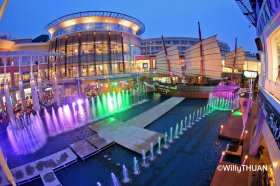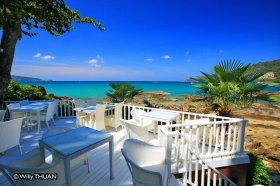 Source: www.phuket101.net
Related Articles