Best places to go in Phuket
Where to Stay in Phuket
February 12, 2023 – 02:04 am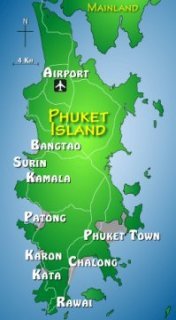 Finding the Best Places to Stay in Phuket
Phuket is a big Island. Its about 50km long by 20km wide and, while there are no really bad areas to stay, visitors can find when they arrive that they've booked a hotel a long way from the things that interest them most.
The best location to stay in depends on individual taste. Some people like to be right next to the hub of the nightlife and shopping while others prefer more peaceful surroundings well away from the crowds.
The following is a quick guide to the available location choices including possible advantages and disadvantages which may help you choose the area that suits you best.
In each region we list some hotels that have been carefully hand-picked based on recent customer ratings but you can follow this link if you prefer to see a list of all Phuket hotels.
The main centre for nightlife and tourist shopping on Phuket is the town of Patong and, not surprisingly, its also where the majority of hotels are located.
However, as Patong is a fair size in itself and local transport fees are highly inflated for tourists it would pay to know where in Patong your hotel is situated relative to where you intend spending most of your time. For this reason we've split our first two location descriptions into "inner" and "outer" Patong.
BANGLA NIGHTLIFE
In the evenings Bangla Road fills with people strolling around the many neon-lit bars.
The heart of Patong's nightlife, Bangla Road, is central to the main shopping area and also leads right down to the edge of the island's busiest beach. If you plan on spending a lot of your time in this area then there are many hotels within walking distance. The easy access will save you precious holiday time but perhaps even more important is that you can avoid paying the ever-increasing taxi and tuk tuk charges which over time can add up to quite a sum. The down side can be the traffic and party noise if you are very close but there are still plenty of quiet places if you don't mind walking just a little further.
Bangtao Hotels with Good Guest Reviews
Banyan Tree Resort - One of the most luxurious resorts on the island with private pools, on-site golf course, restaurants and bars.
Dusit Thani Laguna Hotel - Another self-contained luxury resort in the same vein as the Banyan Tree though not quite as exclusive or expensive but still well rated by visitors.
Allamanda Laguna Hotel - Like the Dusit and Banyan, this hotel is one of the Phuket laguna hotels but is aimed at people with a tighter budget. It offers large rooms or suites with kitchenettes and rates well with family groups.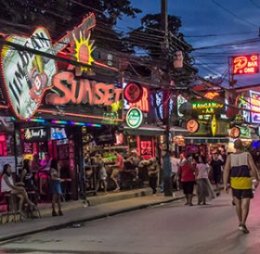 View more Bang Tao / Laguna hotels.
KAMALA BEACH
Kamala Bay with its large, attractive and usually uncrowded beach.
About 20 minutes drive northwards from Patong through some of the island's nicest scenery is another of Phuket's larger beach resorts, Kamala. A little less dedicated to tourism than the similar-sized towns of Karon and Kata means lower numbers of people giving it a generally more laid-back feel.
While maybe a little too quiet for some people, it may suit others looking to escape the more crowded towns while still having access to a good number of shops and restaurants. There are some quality resorts in the area many of them being particularly family friendly.
Nightlife is not a strong point but there are quite a few quiet bars and restaurants near the beach and along the main road in which to enjoy the evenings. The huge Fantasea theme park show is also located in Kamala.
Kamala Hotels with Good Guest Reviews
Ayara Kamala Resort - High class resort located on a hill allowing stunning views of Kamala Bay and a great place to watch the often spectacular sunsets. Highly praised by guests !
Kamala Beach Resort - Very reasonably priced for a hotel right on the beach and with two nice swimming pools. Great location and gets good ratings fom visitors.
Manathai Resort - Not strictly speaking in Kamala but slightly to the north in Surin, home to some of the island's best known up-market resorts. Attractive decor, a lovely private beach and a nice setting have drawn very good comments and ratings from guests.
View more Kamala hotels.
RAWAI BEACH RD
Rawai's shaded beach road is known on Phuket as a great place to go for fresh seafood.
Near the southern tip of Phuket is the pleasant little tourist village of Rawai. It has a very peaceful atmosphere compared to Patong but still posesses a few restaurants and bars with seaside dining on freshly caught seafood being a specialty.
Rawai beach is not one of Phuket's best being unsuitable for swimming but just a 10 minute trip over the hill and you'll find the superb Nai Harn Beach. Nai Harn also has a small number of shops, bars and restaurants.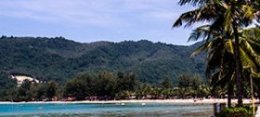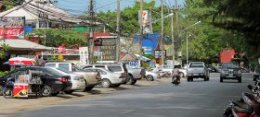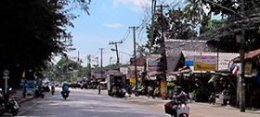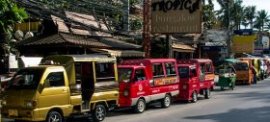 Source: www.phuket-holiday-guide.com
Related Articles