karon beach markets
Karon Temple Market
May 29, 2020 – 07:41 pm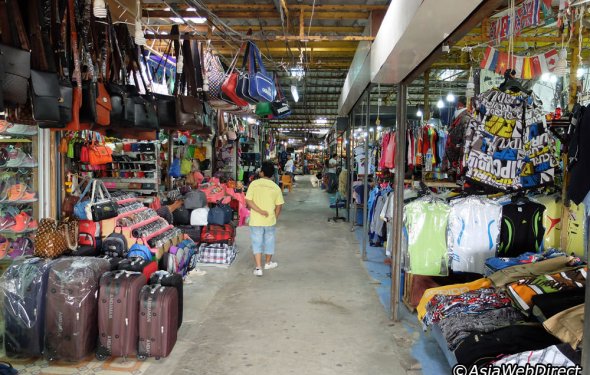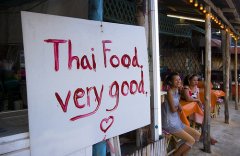 The local market is always a good place to get a slice of local life, and you can find markets all over Phuket. Already on this blog you can find information about the well known Weekend Market, and also the big Kathu market. I do realise that most visitors to Phuket won't be putting "visit to a local market" top of their list, but there is one market in Phuket that's very easy to visit, especially if your hotel is near the north end of Karon Beach! There is a market in the grounds of Karon temple every Tuesday and Friday and rather surprisingly considering that I like markets and work in Karon .. I had never stopped at the market until last week. It starts in the afternoon and goes on into the night. I went just after work, a bit before sunset.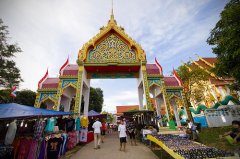 It was not that busy .. well, it's low season and I think more people go to the market after dark. I parked 20m down the road and the first thing I saw was this sign (above) at the "Nok Noi" roadside restaurant. There are lots of small restaurants along the stretch of road near the temple. Here's the entrance to Karon temple with market stalls set up:
I was not sure what to expect here. The first stall I saw was selling cheap sunglasses, another stall was selling t-shirts.. I started to think this market was going to be all "selling cheap cr*p to tourists" ... fortunately not! It covers a fair sized area and I found a wide variety of stalls. Lots of clothes and the prices looked pretty cheap. Some of the stalls are more in the open, others are under a sprawling, colourful roof of ropes and plastic. I liked the way the sunlight was shining through this dummy.
And of course there are plenty of food stalls too, selling fruits, snacks, and ready made meals. Stalls like these are a good chance for tourists to sample local foods at a cheap price. Get yourself some fresh juicy mangoes or try some spicy Northern Thai style sausages.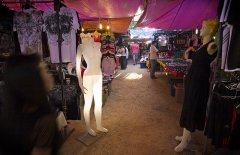 I arrived just after prayers in the late afternoon and a monk was coming out of the prayer hall.
The photo below shows what you might call "Fast food, Thai style". A wide array of ready made food which is scooped into a plastic bag and tied up with an elastic band for you to take home to eat with rice, price normally only about 25 Baht per portion.
It's very nice to have this little market in the temple, and so you can cross off two things in one trip. Visit Buddhist temple. Tick. Visit local market. Tick. Bought some cheap jewelry . maybe not.
Everyone should know that (especially ladies) you should dress modestly if you enter a temple. But it does seem to be OK to have a stall selling bikinis just outside .. at least on market day!
I think I'll call in again sometime soon for some more photos. I had a wide angle lens this time, but I'd like to get some more portraits and close ups. The temple is about a 3 minute drive from our dive shop, yet somehow its taken me years to take a look! Well worth a visit to Karon temple market... Tuesdays and Fridays. I end with a photo of a guy who was wandering around with his baskets of snacks.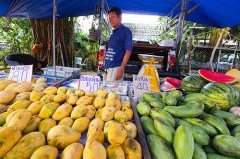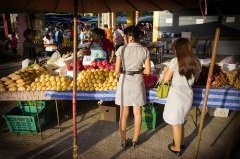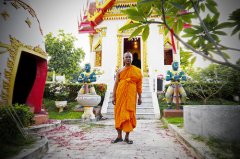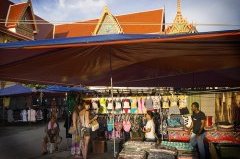 Source: www.jamiesphuketblog.com
Related Articles