Tripadvisor Karon Beach hotels
Karon Beach Hotels
June 4, 2017 – 10:58 am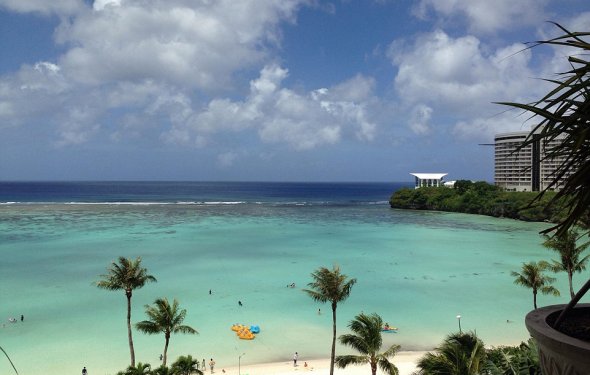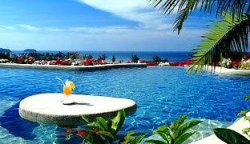 Karon Beach is normally thought of as the second most touristy beach in Phuket after Patong. Probably true, but it's way quieter than Patong, much cleaner, and if you drive from Patong to Karon you will see what I mean. Like a breath of fresh air, with flowers, trees, a beach that has no direct development except for the new Centara Grand at the far north end, and just over 3km away the Karon Beach Resort right at the south end. The rest of the beach is natural - sand, some greenery, trees, and there is a drainage canal running along part of the beach, but it's been built to look nice, you have benches to sit on, plenty of beach access and a golden dragon statue too!
Karon has 2 main centers, the most developed near the north end with the road heading inland from the circle to the temple. I have written about Karon Beach on the blog already where you can find more general information. The north end can be quite busy. Lots of hotels and smaller guesthouses and lots of restaurants too. Past the circle further north are a few hotels - Phuket Ocean Resort, Front Village, Novotel, Centara Grand and then just off the beach are Centara Villas and Karon Cliff which are on the hillside with a great view along the beach.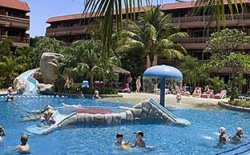 Then along the beach road (a small road runs all along from the circle to the south) you have resorts, some smaller, some larger, such as South Sea, Karon Princess, The Hilton, Thavorn Palm Beach, Moevenpick, Old Phuket, Karon Sea Sands and more. Each resort has its property and each one keeps itself clean. There are regular beach clean ups too. As you get to the south end, a road heads inland (I work up there at Sunrise Divers), and up that road is Phuket Orchid plus many smaller hotels like Karon Place, Casa Brasil, and some lower budget guesthouses like the Pineapple. Karon has accommodation to suit every budget. The last hotels to the south end are Andaman Seaview, Phuket Island View, Horizon and then Karon Beyond Resort and Marina Phuket. If you stay near the south end, you can also walk to Kata Beach in about 10 - 15 minutes.
Recommended Karon Beach Hotels
Pacific Club Resort
The Pacific Club Resort is at the north end of Karon, not right by the beach but on a hillside up a small road, great views, peace and quiet, a 10 minute walk into the busy end of Karon. This hotel consistently gets good reviews, and is in the Top 10 Luxury Phuket Hotels list.
• Pacific Club Resort on Jamie's Phuket
• Pacific Club Resort - Reviews, Rates and Availability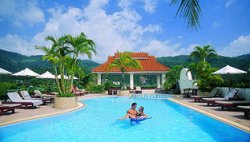 Phuket Orchid Resort
Phuket Orchid is quite a big hotel with over 500 rooms, the entrance is 1 minute walk to Karon beach. Great for families with several large swimming pools. It's on the side road heading off the beach - walk up that road for restaurants and bars and Sunrise Divers, where you can find me :) A friend of mine was manager of this resort for a while - he still works for the same company managing a resort in Khao Lak.
• Phuket Orchid on Jamie's Phuket
• Phuket Orchid - Reviews, Rates and Availability
Marina Phuket Resort
The Marina Phuket Resort sits on the headland right at the south end of Karon Beach. The main entrance is up the road a little from the beach, but some of the rooms and villas have a fantastic seaview and they have a restaurant called On The Rock which sits above the beach. Always gets good reviews, and close to both Kata and Karon beaches.
• Marina Phuket on Jamie's Phuket
• Marina Phuket - Reviews, Rates and Availability
Old Phuket Hotel
The Old Phuket is tucked away up a side road near the middle of Karon beach - the side road is for hotel access only, not a through road, so it's very quiet and just a couple of minutes walk to the beach. Hotel is designed in "olde Phuket" style - if you want to see the real thing, take a tour of Phuket Town!
• Old Phuket Hotel on Jamie's Phuket
• Old Phuket - Reviews, Rates and Availability
Boomerang Village
Boomerang Village - a bit of an oddity, not by the beach, I guess at least 10 minutes walk, it's up on the hillside between Karon and Kata off the "back road" called Patak Road (good for finding small local restaurants!). It gets great reviews, always sits in the top 10 on TripAdvisor,
Source: www.jamiesphuketblog.com
Related Articles