Places to Visit in Phuket
10 Best Places to Visit in Phuket
August 9, 2017 – 09:27 am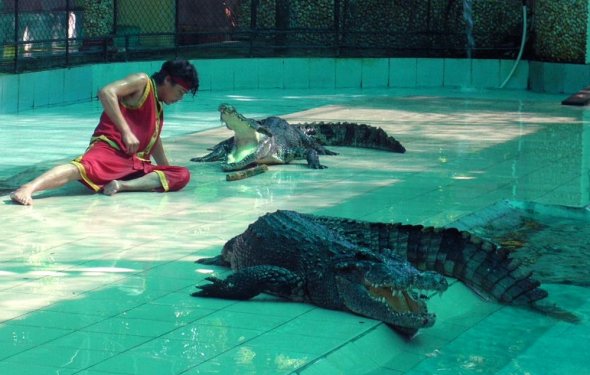 Hat Mai Khao is a beach on the northwestern coast of Phuket. It's also known as Airport Beach, as it's very close to the airport. The northern portion is known as Hat Sai Khao, a long sandy beach with groves of Casuarina trees along the shore. The area around Mai Khao is still very quiet and undeveloped as it is part of the Sirinat National Park. On quieter days it is still possible here to walk for kilometers without seeing a single person. A short distance out into the water, there is a sharp drop off into the Andaman Sea, making swimming dangerous from May to November.
9. Cape Panwa
The cape that stretches out from the southeastern corner of Phuket is home to a number of attractions worth visiting, including Khao Khat, or Panwa Beach. While the sand is rougher than beaches elsewhere on the island, few places in Phuket are as untouched by urbanization as Panwa. While there are few facilities on the beach itself, a stay in one of the seaside villas offers travelers the chance to enjoy a quiet and peaceful holiday in perfect comfort. Nearby is the recently renovated Phuket Aquarium where visitors can stroll through a long underwater tunnel for up-close looks at marine life ranging from sharks to sting rays.
8. Hat Nai Han
Often referred to as Hat Nai Harn, Nai Han is a secluded beach located at the southernmost tip of Phuket Island. As home to the Nai Han monastery, this tranquil beach has escaped overdevelopment, although there are several fine resort hotels along the shoreline as well as anchorage for visiting yachts. Hat Nai Han is also close to Phromthep Cape, one of the Phuket's most popular viewpoints. Each evening, travelers from all over Phuket come to watch the sunset. Adventurous visitors climb down a rocky trail to the edge of the promontory to enjoy the best view.
7. Hat Kamala
Located to the north of Patong, Hat Kamala is a tranquil, picturesque beach that's ideal for swimming, snorkeling and sunbathing. The north end of Hat Kamala has a coral reef that invites undersea adventures while the rest of the beach features a sandy sea floor that's perfect for wading. Located at the south end of this uncrowded beach is Wat Baan Kamala, a Buddhist temple, which includes images and statues depicting the Buddha's life. With theatrical productions showcasing the legends and myths of Thailand, the nearby Phuket Fantasea theme park is a great place for families to explore the country's cultural heritage.
6. Hat Surin
For an upscale beach vacation in Phuket, it's hard to beat the amenities offered at the luxury resorts located among the gorgeous homes on the island's so-called Millionaire's Row. High-end resorts in the area offer everything from spa treatments and Thai cooking classes to elephant rides. Lined with gently swaying casuarina trees, the west coast beach features beautifully groomed sand and crystal-clear water. For most of the year, Hat Surin's calm waters make it ideal for snorkeling and kayaking. Strong currents during the off season, however, can make swimming treacherous.
5. Hat Rawai
Despite the fact that Hat Rawai was the first tourist beach established on Phuket, it's better known today as a jump-off point for island-hopping tours. The southern-facing beach is primarily used as a harbor for long-tail, speed boats and fishing boats. A recently built pier invites leisurely strolls, but it's the Sea Gypsies Fish Market situated next to it that makes a visit to Hat Rawai worthwhile. Fishermen hawk a wide selection of freshly caught seafood. Across the road is a line of family-run restaurants that will cook the purchased fish. There are few better places than Hat Rawai to experience Phuket's seafood cuisine.
4. Phuket Town
Phuket's capital and largest city offers visitors the chance to step back in time and explore the island's rich history. Tin mining made Phuket a boom town during the 19th century, and much of the city's charm comes from the splendid Sino-Portuguese architecture built during this prosperous era. With its rows of tightly packed and colorfully painted shops, the Old Town is a must for shoppers on the hunt for Phuket specialties like pewter and batik clothing. The incredible trompe-l'œil paintings of the Phuket Trickeye Museum make it a can't-miss attraction as well.
3. Hat Kata
Known as Hat Karon's sister beach, Hat Kata is situated to the south of its sibling and features two stretches of golden sand separated by a rocky headland. On the northern side, the clear waters and relatively safe swimming conditions of Hat Kata Yai make it a family favorite. Multiple resorts, restaurants and shops are located across the road next to the beach. The more secluded Kata Noi Beach is a small cove nestled among forested hills. Challenging waves attract surfers to Kata Noi during the monsoon season, and the gorgeous scenery draws visitors year round.
2. Hat Karon
Located just a short drive south of bustling Patong, Karon Beach is the second most popular place to visit in Phuket. With large resorts lining the shoreline, Hat Karon attracts visitors who want comfortable accommodations that make it easy to relax and enjoy the sun, sea and sand. From lazy strolls along the island's third longest beach to snorkeling and diving adventures among the coral reefs located at the southern end of the sand, activities in Hat Karon revolve around the water. An array of excellent seafood restaurants adds to Hat Karon's appeal.
1. Hat Patong
More than 50 years of continual development has transformed Hat Patong from a secluded beach into a holiday destination best known for its dusk-to-dawn nightlife. Located on Phuket's west coast, the city of Patong is jam-packed with hundreds of restaurants, discos, bars and clubs, most of which are centered around Bangla Road. Quieter sections of the city feature upscale shops and one-of-a-kind boutiques. Despite the city's growth, with its scenic crescent-shaped bay and wide sandy shoreline, the beach remains one of the prettiest in Thailand.
Related Articles