Famous places in Phuket
10 Famous Phuket Food To Eat Before You Leave
October 1, 2019 – 09:26 am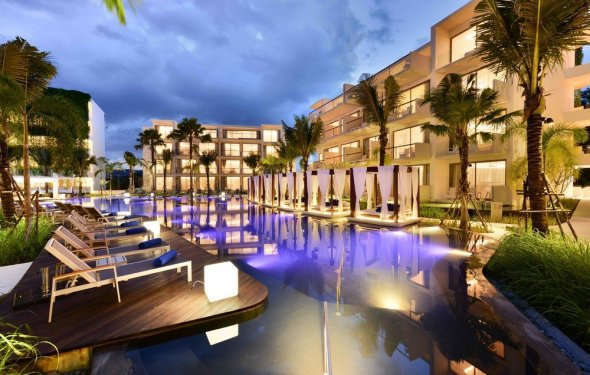 Phuket, as always, boats the most beautiful beaches in the world but this little city is more popular for its culinary background with hundreads of food readily availble in restaurants and on the street. To help you have a quick overview of what to eat, we pick out 10 of the best food in Phuket in this writing.
1. Tom Yam Goong
Tom Yang Goong is basically known as the mixture of spicy prawn and sour soup which is one of the most favorite dishes of the Thai. Tom Yang Goong Mae Nam is the original version of all variations of Tom Yang which includes Tom Yam Talay (Seafood), Tom Yam Gai (Chicken), Tom Yam Kradook Moo (Pork ribs). The most important part of all Tom Yam is its soup made from coconut milk, red chili, mushroom, herbs and other spices.
If you don't like spicy, look away! Tom Yam soup is hot, spicy and delightful at the same time. Tom Yum Goong goes great with rice or noodles.
Photo by Santo Chino
2. Mee Hokkien noodle
This simple dish of stir-fried noodle with prawn keeps noodle fans coming back over and over agan. The thick yellow fried noodles, prawns, pork, squids, egg and bean sprouts are all in a perfect combination that makes everything taste extra good. Noodle is served with sambal chili and a squeeze of lime juice.
Photo by kin0be
Where to eat:
Mee Ton Poe restaurant, Phuket rd, facing both the Metropole hotel and the Surin Clock Tower at the traffic circle, 8.00 AM – 8.00 PM.
3. Massaman Curry
It seems that Thai food is a hard treat for spicy haters. With Massaman curry, you shound't worry about it anymore.
This curry is beloved by many people who are crazy in love with curry of all kinds. Its flavor is suprisingly good with the sweetness of coconut milk, a little sourness of lime juice, the flavorful aroma of lime leaves and basil, the thickness of peanuts and tomatoes. They are go perfectly together and make a toothsome dish in one bowl. Massaman curry has several versions depending on what the main ingredient is. It can be pork, beef or fish. As usual, a curry appears at its best with steamed rice or noodles.
Photo by Alpha
183/6 Phang-Nga, Talad Yai, Muang, 8.00 AM – 6.00 PM.
Oriental Spoon restaurant: 106/46 Moo 3, Surin Beach Road | Twinpalms Phuket Resort, Phuket, Thailand
4. Dim Sum
When it comes to Dim Sum, you will be totally shocked with a huge collection of this Chinese fusion food in Phuket. As there are several kinds of dim sum ready to be ordered, it's smart to plot out which is highly recommended by the local. The best kind of dim sum is the one which is folded at least seven times with a glowing fluffy outlook. The fillings are diverse ranging from shrimp, pork, prawn or green beans. Dim sum is amazingly super smooth and super rich in flavor.
Also read: Scam In ThaiLand
Photo by Jzee
26/41 Thanon Bangkawk, Phuket Town, Phuket, 6.00 AM – 10.00 AM.
Wang DimSum, 269/1-2, Phuket Rd, Phuket Town, 6.00 AM – 11.00 AM.
5. Gaeng Keaw Wan Gai (Green Curry Chicken)
Next up is GaengKeaw Wan Gai, another unique Thai curry that attracts foodies worldwide for its distinctive feature. The curry is made with chicken, cooked with two types of eggplants cut in quarters. Eggplants are used to lower the choleterol level. Even you don't try this dish, oberving the smiling faces of those who indulged, the food must be delicious.
Photo by Thai Jasmine
6. Kanom Jeen Phuket
Kanom Jeen is another well-liked soup using chicken, mushrooms, galangal, tomatoes and lemongrass cooked in coconut milk. Normally, the dish is added with some chili but it's not that spicy, it's sure flavorful. To make a mind blowing bowl of Kanom Jeen, you need to pick up some of the best ingredients of beef, chicken, fish, crab and vegetables.
Related Articles