Kata Noi Beach, Phuket
Kata Noi Beach
May 4, 2021 – 09:17 pm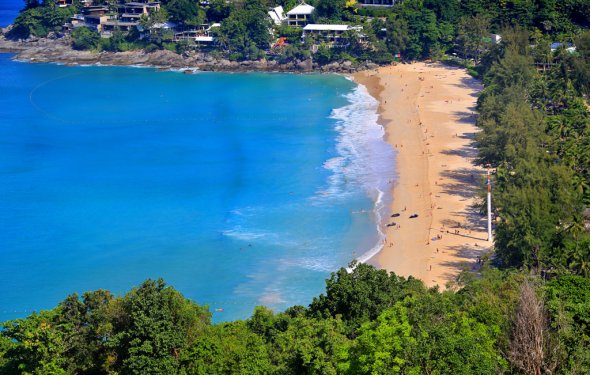 Walking distance to two of Phuket's most beautiful beaches, this charming One Bedroom Apartment in a secured community is the perfect place to enjoy a relaxing holiday. If you're a chef or have children, this is the perfect spot for you!
We loved staying in this apartment and it is even bigger than it looks in the pictures. We felt completely at home and comfortable. There are so many amenities, from the beach towels, umbrella and other beach gear, to the well-stocked kitchen and beautiful bowl of fresh fruit. Grey and Lillian are very helpful and very easy and quick to communicate with, and cleaning staff is lovely and efficient. The apartment is perfectly placed between two beaches - take your pick of something more quiet or something with more action and activities. We also really enjoyed the pools in the apartment compound. We ordered coffee and breakfast many times from the on-site restaurant. This was so easy to do and such an unexpected perk. If you find you need the air-con, it is very efficient. However, with the ceiling fans, we only needed to turn in on for a couple of hours the whole week. I think the only caveat in this apartment is that it is close to the main road. It was difficult to really enjoy the beautiful terrace with the loud trucks, motorcycles and tuk-tuks, but no noise will disturb you inside if you have the windows closed.
This is a Very Nice Condominium in the Kata Gardens development! It is a spacious almost 2 bedroom unit each with an ensuite bathroom. The second bedroom is probably more like an office or study room but if you have kids, they could sleep in the 2nd room on the sofa bed. The furnishings, fixtures, appliances and stuff in this Condo are all high-end quality. The kitchen was nice and has all that you need to cook, if you want. The internet was strong and dependable. The LED cable tv has many english channels including some movie channels. Also, you can play Youtube on the tv. The patio area is large and comfortable. This is a first floor unit with a view of a lush tropical area from the patio. As a first floor unit, you can hear some road noise from the living area / patio but the master bedroom is very quiet. Kata Gardens is very safe with 24 hour security. The staff at Kata Gardens were all very professional and friendly. This Condo is in a great location, right between Kata Noi Beach and Kata Yai Beach. There is an Italian restaurant on the Kata Gardens property and many, many restaurants within walking distance. You do NOT need a car but if you have one parking is free & secure. If you can handle a little elevation when walking, there are many things to do and places to eat in well under 1 km distance from this Condo. The hosts, Lillian and Graham, were AWESOME!!! They were flexible and very resourceful. They knew everything about the Condo. They anticipated every need we might have and provided for it. They are a wonderful resource if and when you need them. I look forward to staying at this Fabulous Condominium again soon!
grey was fantastic host always there to help you, definitely would recommend to everyone. See you next time
Very cool! We rested three (two adults and a daughter 10 years old) KataGardens from 24 March to 9 April. Before you go read the reviews from previous guests on arrival and seen even exceeded our expectations. The territory is small, and it simply is buried in verdure - pictures on the website are not able to convey the surrounding beauty :) The complex is very clean, well maintained, nice pool, a small gym and a restaurant. The territory is guarded, video surveillance, if renting a car - you have an underground parking lot. The complex is located very well, is located between two beaches: Kata and Kata Noi. On-site restaurant, within walking distance to the side Kata Beach - shops with everything you need (SevenEleven etc.), massage parlors, fruit trays, good restaurants (liked with sea views). The area is quiet in the evening without the crazy parties (tuk-tuk to the night Banglaroad - 400Bt one way). On arrival I expect small welcome basket with fruit (mango / pineapple / banana / heart of a dragon / tangerine), bread, eggs, water, a jar of coffee custard (which is enough for all vacation :). Very comfortable apartment for two adults and a teenager: a child is a separate room, private shower / toilet. Cleaning / linen was performed three times a week, once implemented vneplanovaya- needed for one hour. Apartment a few years, the state of the monitor is good enough. For a comfortable accommodation has everything you need: a split system in every room, ceiling fans, Wi-Fi with good speed (YouTube, (SENSITIVE CONTENTS HIDDEN) simultaneously with multiple devices - no problem), hair dryers, iron / ironing board, cable TV (at the time of visit channels were in Thai, English, one - in Russian), for a beach holiday - umbrella, beach mat, baby boards for swimming, circle. We should also mention the space of the kitchen - it is simply gorgeous: a fully equipped on spoons / forks / toothpicks to microwave / toaster / coffee maker / full gas stove. There's even a wine cooler! A large set of spices, tea / sugar, on the terrace - electrical grill on which to cook local seafood was a pleasure! With Gray was pleased to communicate: organized transfer from and to the airport, on-site all the questions / suggestions promptly solved, written off by email. Before leaving, I got to meet in person - very nice and positive person. Kindly showed several apartments to stay in the complex - all also very cool. In general, all very much and of residence received only positive emotions!
Our family enjoyed the stay at the apartment. It was a perfect size for a family of 3. We understand now, there is a reason Grey is rated a "super host".he perfectly matched the service, attention to detail, and convenience you might expect at a top hotel with the personal touches, privacy, and value of AirBnb.
Related Articles